(Binghamton, NY  ·  June 5, 2019) Famed former Major League Baseball pitcher Al Downing  and Security Mutual Life Chairman, President and CEO Bruce W. Boyea announced that the 18th annual Jim "Mudcat" Grant All-Star Tournament will take place Thursday, August 29, at The Links at Hiawatha Landing.
Downing is one of the original members of The Black Aces, the elite group of 15 African-American Major League pitchers who have won 20 or more games in a single season. He began his career with the Binghamton Triplets in 1961 prior to joining the Yankees.  "It's always a pleasure to come back here," said Downing, who threw out the first pitch at Sunday's Binghamton Rumble Ponies Game in support of National Cancer Survivors Day and Sock Out Cancer® Day in New York State.
Downing praised the more than 30 celebrities who take part in the annual All-Star Golf Tournament. "They're not just celebrities because they played sports or they were coaching or they were athletic directors. They're celebrities because of their affinity for people. . . they're giving back, just like you're giving back." Downing closed with a quote from the great Jackie Robinson: "A life is not important except in the impact it has on other lives."
The Jim "Mudcat" Grant All-Star Golf Tournament has a substantial impact on the lives of others by helping to support the educational, recreational, wellness and other programs offered by the Broome County Urban League, the Boys and Girls Clubs of Binghamton and Catholic Charities of Broome County, as well as the food programs run by CHOW and Catholic Charities.
Speaking on behalf of those four organizations, Executive Director of the Boys and Girls Clubs of Binghamton Marybeth Smith noted that their work takes place all year long and comes from the heart. "Our kids, our teens, our young adults, our families—they need us," Smith said simply. "We see the smiles. We see the dad and the mom being able to provide food and services and support and love to their families. It's amazing."
During the Tournament, a separate fundraising event is also held in support of U.S. veterans, particularly homeless veterans in Broome County. Binghamton Mayor Richard David was one of the first mayors in America to accept the Mayors Challenge to End Veteran Homelessness, an initiative launched by the White House in 2014. The City of Binghamton went on to create a housing unit for transitional vets, and funds raised during the Tournament will help cover the annual housing cost for one of the unit's residents. "We certainly appreciate that," said Mayor David, "and we encourage everyone to participate or give to this event."
"Security Mutual is so proud to help sponsor this Tournament," said Boyea, "and we continue to be inspired by the outstanding work these charitable agencies do each day throughout the year to make a difference in the lives of area children and their families. We greatly appreciate the generosity of the celebrities, sponsors, volunteers and supporters who help make this event possible, and I strongly encourage you to be a part of it, whether that's through sponsoring a team, advertising in the program, or donating a prize. Not only is the Tournament great fun, but it's a great way to demonstrate our commitment to helping others—it's a win-win all around!"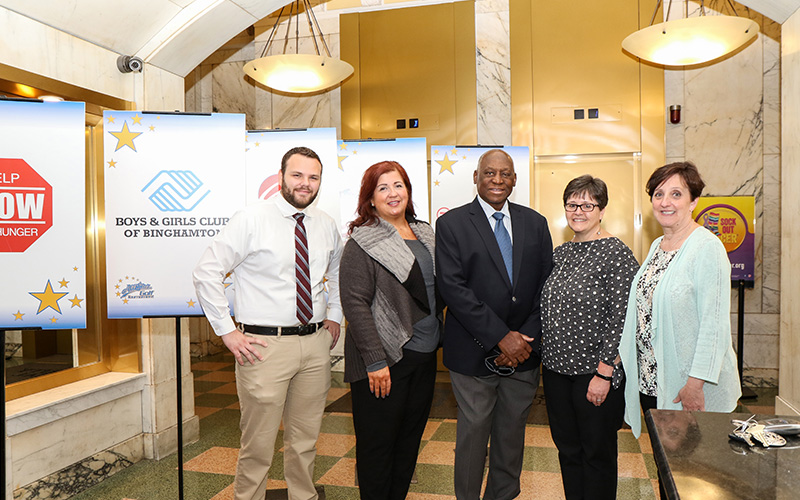 (l to r) CHOW®/Broome Bounty Director Jack Seman; Broome County Urban League President & CEO Jennifer Lesko; Former MLB Pitcher Al Downing; Catholic Charities of Broome County Staff Training and Development Carla Morgan; and Boys and Girls Clubs of Binghamton Executive Director Marybeth Smith.