(Binghamton, NY • August 29, 2019) More than 35 All-Stars and other celebrities are set to shine for the 18th Annual Jim "Mudcat" Grant All-Star Golf Tournament taking place today at The Links at Hiawatha Landing. Presented by Security Mutual Life and The Black Aces*, the tournament helps support the educational, recreational, wellness and other programs offered by The Broome County Urban League and the Boys and Girls Clubs of Binghamton, as well as the food programs run by CHOW and Catholic Charities of Broome County.
Heading up the celebrity guest list this year are three of The Black Aces: National Baseball Hall of Fame member Fergie Jenkins, J.R. Richard, and local favorite "Gentleman Al" Downing. Downing played for the Binghamton Triplets in 1961 before going on to a record-breaking 17-year Major League career, beginning with the New York Yankees. Also from the Yankees are Ron "the Boomer" Blomberg and six-time World Series Champion Chris Chambliss, as well as Mike Torrez, who is new to the tournament this year. Representing the Mets are two-time World Series Champion George Foster and "Miracle Mets" player Art Shamsky, who has just published a book commemorating the 50th anniversary of that incredible World Series victory.
Other All-Stars adding to this year's exciting lineup include World Series Champion and Cy Young Award winner Vern Law, plus Super Bowl Champions Johnnie Roland and John Schmitt. (For the full Celebrity Lineup, click here.)
"Each year, we are extremely grateful to these celebrities for sharing their time and talent to help children and families through this event," said Security Mutual Life Chairman, President and CEO Bruce W. Boyea. "A number of these special guests also visit patients at area hospitals while they are in town for the tournament, and it's amazing to see how they lift patients' spirits while autographing baseballs and sharing words of encouragement."
"It's always an honor to come back to Binghamton," said Downing, "and what really touches my heart is the job that the charities are doing." Downing also praised the other Tournament celebrities, noting that they are not only champion athletes, but that "they are champion people, and they have shown that year after year . . ."
"We are delighted to be welcoming such a stellar group of sports greats to Binghamton for the benefit of our community's children and their families," said Boyea. And it is thanks to our equally stellar Grand Slam sponsors and Triple Play sponsors, donors, volunteers, and other supporters that this great event is taking place—without their generosity and continued loyal support, none of this would even be possible."
Marybeth Smith, Executive Director of the Boys and Girls Clubs of Binghamton, spoke on behalf of the charitable organizations. "I am honored to be here on behalf of our four amazing, wonderful organizations," she said. "We give the tools, and the opportunity, and information and direction to so many people—so many moms and dads and grandmothers and grandfathers and teenagers and little kids. We are proud to be a part of that, and we couldn't do it as well if it were not for everybody here and this tournament."
"These four organizations are fundamentally important to our community, and they make Binghamton a better place to live and work," said Boyea. "On behalf of everyone involved with the Tournament, we thank them for the work they do each and every day."
In addition, a separate fundraising event will be held during the tournament, with those proceeds being used to help support U.S. veterans, particularly homeless veterans in Broome County. "There are very few events that unilaterally at one time support four or five of the largest nonprofits who serve the most people in our region," said Binghamton Mayor Richard David. "Security Mutual has really taken the time and effort to say, 'How do we make sure that the funds we raise go the furthest and help the most people?'"
* The African-American major league baseball pitchers who have won 20 or more games in a single season.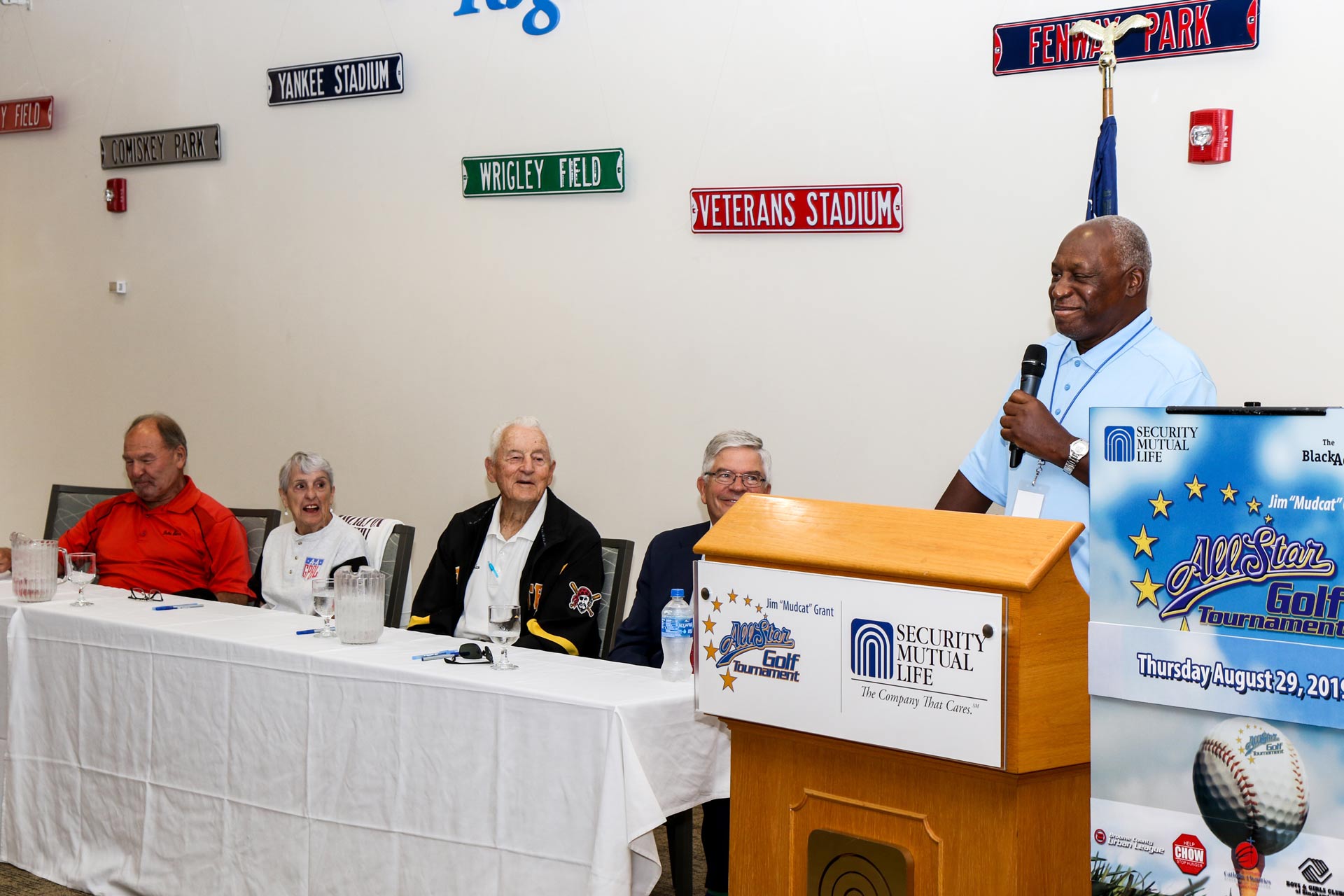 (l to r) former MLB catcher Duke Sims; former Championship Fast Pitch Softball Player and Associate Member of the AAGPBL Gina "Chirpey" Casey; 1960 Pirates' World Series Champion and Cy Young Award winner Vern Law; Chairman, President and CEO of Security Mutual Life Bruce W. Boyea; and former MLB pitcher, All-Star and Black Ace Al Downing.